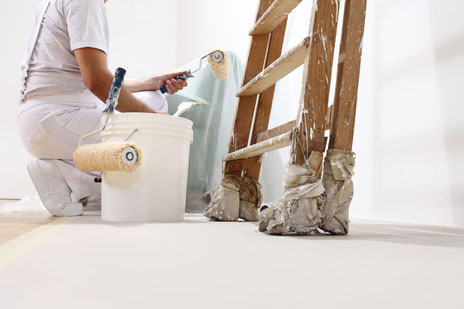 Projects around the house can add up to make an exhaustive To-Do list. Paint the cabinets, pressure wash the siding, repaint the living room, and the list goes on. While these do-it-yourself projects can sometimes be a simple task, there are definite pros to hiring the pro's. Whether those projects are big or small, indoor or outdoor, you are actually better off hiring your trusted Chattanooga, TN painting professional to get the job done and right the first time. 
1. Fast results:  Painting a room or house can be quite the demanding and ongoing task. While the process of painting can be a long-lived project, it's not the only enduring part. DIY painters know that planning out colors, making multiple trips for supplies, and properly prepping your space before paint almost always takes much, much longer than anticipated. By hiring a licensed professional, this arduous process is expedited leaving you with quality results, fast and stress-free. 
2. Quality work: Want clean lines and an even coat? If you wish to achieve a professional paint job, hire Scott Brown Professional Painting and Remodeling Service. The expertise and skill of our professional team will guarantee premium, quality results, in both durability and finish. Because, at the end of the day, professional painters will do a better job. An experienced painter who has the knowledge with various wall textures and paints can help make suitable assessments for each surface, leaving you with the highest quality results.
3. Insured: If you choose to hire a licensed Chattanooga painting professional, you can rest assured that the service provider is qualified to do the job. Because of this, you are covered if any problems should occur onsite. It is important to discuss damages with your painting contractor. In most cases, the contractor will be able to repair or replace any loss. 
4. Saves money: Contrary to popular belief, hiring a painter is incredibly cost-effective, especially for larger jobs. While attempting to tackle your DIY home projects might seem like the penny saving solution to freshening up your space, seeking out a painting contractor will save you time and money, overall. The cost in supplies and equipment alone, especially the tools professionals use, would add to be very costly. Because it's more than just some rollers and paint, you know. By hiring a professional painting service, the exact cost per project is provided, which means no more underestimating costs. 
5. Prep and Cleanup: Forget the stress and mess of prep and cleanup.
The preparation is a crucial step in the painting process. If the prep isn't performed properly, then you won't have quality results. No matter the finish, brand, or technique, a poorly prepared space will wreak havoc on all of your hard work. Licensed professionals will have the expertise and skilled approach for varying conditions for the best possible finish. Last but not least, cleanup can be just as challenging as the prep work and painting part itself. A good professional should make little to no mess and should clean up after every job, without any exception. 
For more information on residential or commercial painting services, call us at (423) 314-7179 for your free estimate today!
Best Price, Best Service, Best Guarantee