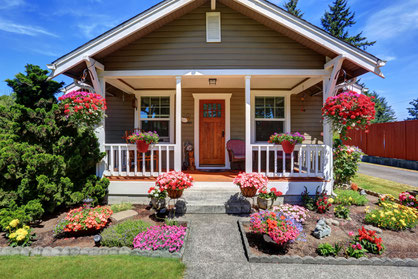 6 Ways a Chattanooga Professional Painter Can Add Curb Appeal to Your Home:
Squeaky Clean
Pressure washing the siding, walk ways, gutters, and roof can dramatically change the exterior appearance of your curb appeal. The years of dirt buildup and wear, can prevent your property from looking well maintained. At Scott Brown Professional Painting and Remodeling of Chattanooga, we specialize in a full range of commercial and residential services. For all of your pressure washing needs, call us today for a free estimate.
Freshen It Up
Transform your home in an instant! Adding a fresh coat of paint can offer curb appeal and a touch of personality. If your budget is tight and you want the same effect, consider repainting the trim in a new color. It's as simple as calling Scott Brown and his team of professional Chattanooga painters.
The Mailbox Wow-Factor
Depending on your budget, sprucing up your existing or adding a new mailbox can surprisingly add an extra dose of curb appeal and really make your house stand out from the neighborhood's long row of boring black boxes. 
Transform a basic, store-bought mailbox by adding architectural house numbers, custom lettering, or a painted post. Tips to remember when picking out the look best suited for your mailbox, always coordinate with the style and color of the home. For homes with a more modern aesthetic, pick a sleek, cleaned-lined box over a traditional, ornate one.
Another easy tip, if you have a green thumb, plant around your post! Enhancing the area around your mailbox can work wonders while also a great way to accentuate your landscape.
A Pop of Color
Make a statement by adding an unexpected pop of color to the front of your house. Since your home's front entry, shutters, and trim are the underlying focal point and first impression, don't bypass these details! The entry should resemble your home's interior, so choose finishes that reflect your style. Make a statement by giving the front of your home major curb appeal points
It's All In the Fencing
Properly painted garden gates, decorative fencing, arbors, and trellises can give a yard or garden a custom architectural feel while also adding value and curb appeal to your home. Tip: For best results, our Chattanooga painting and remodeling service recommends using the same trim or stain color for a unified look. 
Flower Power
Consider installing custom painted window boxes for additional color and character to your home's appearance. Similar to the mailbox, pick a design that best reflects the style of the property. For a more traditional look, use a classic white planter and add a variety of vibrant flowers and plants based on their level of sun or shade.
For more information on residential or commercial painting services, call us at (423) 314-7179 for your free estimate today!
 Best Price, Best Service, Best Guarantee