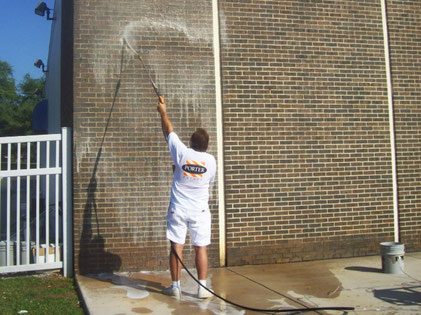 Instant Curb Appeal. For any business, curb appeal matters. Keeping your property clean and mildew-free will attract more customers, which means more business. Take pride in your business and call Chattanooga's Scott Brown Painting and Remodeling today!
Decreases Pollutants and Allergens. Our professional power washing services are designed to remove pollutants and wash away the allergens that are lingering from your building and parking lot, especially when allergy season hits.

Preps the Surface. If you are considering our painting services for your Chattanooga commercial property, pressure washing will help to prepare the surface for painting and refinishing. FACT: Did you know we offer FREE pressure washing with every job? Call today to schedule your appointment today!

Improves the Lifespan. Proper care and routine maintenance on your commercial building, interior and exterior, will help increase it's longevity. Regular pressure washing will eliminate the possibility of damage, rot, and disrepair which ultimately saves time and money. 
If you are interested in commercial pressure washing, contact us for more information about our Chattanooga commercial services and for your free, comprehensive estimate today! (423) 314-7179.
Best Price, Best Service, Best Guarantee