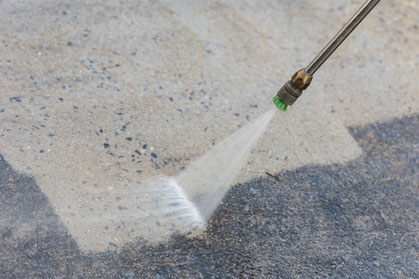 You don't have to wait until spring to tackle these home improvement projects; however, if you're in deep spring cleaning mode, you might as well take on your outdoor space too! There are a number of ways to freshen up your outdoor space with just a few simple tricks and a pressure washer. Not only does annual outdoor cleaning benefit cosmetic appearance and curb appeal, it also helps to extend the longevity of your outdoor space.
Exterior brick or siding
Pressure washing your exterior space, such as siding and masonry surfaces, can transform the overall look of your space. Tip: for stubborn dirt or mildew, add detergent to get the job done in half the time!
Driveway
Before pressure washing, start by removing any existing weeds or grass in cracks or seams of the driveway. Once removed, a careful cleaning with a pressure washer to remove dirt and grime can make a huge difference!
Gutters
Similarly to your driveway, gutters may also build up dirt and grime. Tip: when cleaning gutters overhead, stand off to the side to avoid spray back, debris, water runoff, and drips.
Deck
Being careful not to damage the wood, follow all cleaning and pressure washing instructions based on wood cleaner type. For best results, test on an inconspicuous area of the deck before treating the entire area.
Fence
Bring your wood fence back to life with a good pressure washer cleaning. Once clean and dry, apply a rejuvenating coat of wood stain and sealer. Afterwards, your fence will look brand new!
Windows
Windows need maintenance just like the rest of your property. So no matter if you're cleaning them to remove pollen and dirt build up or prepping to repaint, think of the pressure washer as your new best friend. Tip: check the condition of your windows before cleaning to avoid damage to the glass, trim, or seal.
While pressure washing can improve the look of the outside of your home, do be careful. Pressure washers emit extremely high pressure that can damage wood and other various materials, if used improperly. For information on pressure washing the outside of your home or Chattanooga business, give us a call today at (423) 314-7179!