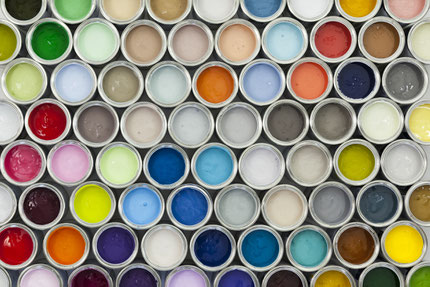 Painting the outside of your house is an easy way to change the overall look of your home, without tackling a full-on remodeling project. However, selecting the paint color for the exterior of your home can be quite the commitment. Especially when you factor in the subtleties of color—how pigments can differ depending on lighting, textures, and adjacent tones. If you're not sure what to pick, this list of tips may help spark new ideas to selecting the perfect exterior paint color, sure to last you through the years.
#1 Time to be Inspired
Take your time and utilize all inspirational resources, like Pinterest, to find your paint color. Although picking the perfect color can take forever, if you let it! Once you find the right shade, don't second guess – just go for it!
#2 What is Your Paint Personality?
If you are full of personality, consider small pops of color to help your home stand out from the curb. The colors you choose can make a bold statement!
#3 Consider the Block
On a street of beige, would you want your house to blend among the rest? On the flipside, while there's nothing wrong with standing out a bit, do consider the neighbors view and the overall aesthetic of the block. It is important to pick a color that you and your neighbors will love. Tip: Take a walk down your street and make note of neighboring curb appeal, what you like, also what you don't like!
#4 Research the Roots
If you have an older, or historic home, you will want to do your research on nationally registered historic hues. Does your home have a distinctive style? Consider the architecture to find color inspiration.
#5 Pick a Palette
When picking out your color palette, remember to consider your roof, chimney, facade, and other features or elements that may help you concentrate your colors in complementary shades.
#6 Still Not Sure? Ask Scott Brown!  
As always, if you have any questions here in the Chattanooga, TN and North Georgia area, we encourage you to give us a call. It would be our pleasure to serve you. Call Scott Brown Painting and Remodeling at (423) 314-7179 for your free estimate today!